Wednesday, April 22, 2009
Waiting on Wednesday (15) @ 6:40 AM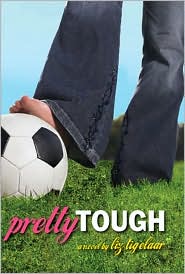 Pretty Tough by Liz Tigelaar
Bubbly, blond Krista brown is pretty and popular. Her sister, Charlie, is more interested in braving the Malibu waves than the halls of the school that Krista rules. but when Krista and Charlie are both recruited to the school's soccer team, they are forced to face their differences. Can these two sisters become teammates, and friends, in time to make it to the championships? Classic themes of sisterhood and romance make PrettyTough a new take on Francine pascal's Sweet Valley High. the strong sports element and a tie-in to the prettytougH sportswear and entertainment franchise give this first book by liz tigelaar added appeal.
**found on barnesandnoble.com**
Why do I want to read this?
I've always been a big fan of soccer, so that aspect of the book drew my eye almost immediately. I also love drama in books, so I'm really hoping this will live up to my expectations for it.
-kaylee.